Apple has introduced many security features in macOS 10.15 Catalina. One of them is requiring 3rd party developers to include a certificate in their apps in order to validate that the software is free of malware or viruses.
If you are using Screens Connect 2.x or 3.x on macOS 10.15, you may encounter this warning: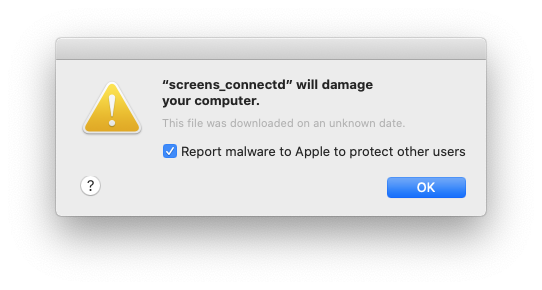 These versions of Screens Connect are now obsolete and no longer supported as they do not meet the new requirements.
The solution is to install Screens Connect 4.x or later on all Macs running macOS 10.11 or later. Older versions of the software are no longer maintained and are only made available for older macOS/OS X versions.
To update to the latest version, simply go to the Screens Connect product page and scroll down to the bottom of the page to find the appropriate link.