Screens Connect is a free utility that makes your Mac reachable remotely so you can connect to using Screens for iOS and macOS.
The utility launches at boot time in order to ensure that your Mac is reachable at all times, even after a reboot.
Instructions
Download Screens Connect here.
Unzip the archive file.
Double-click to launch.
When macOS prompts to open the app file, click Open:

You will then be asked to move Screens Connect to the /Applications folder:

Respond to the prompt offering to move Screens Connect to the /Applications folder. Due to security restrictions introduced with macOS Sierra, this is mandatory for automatic application updates. We recommend this location for all users, regardless.
Screens Connect will also prompt to to install a helper tool, which is required in order for the utility to work: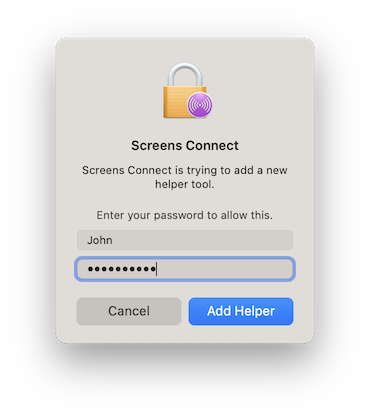 Then, follow the on-screen Welcome Guide to complete set-up: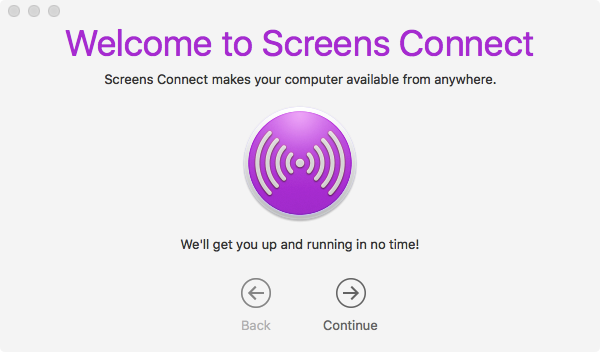 Stopping or Uninstalling Screens Connect
Click the Screens Connect icon to display the menu: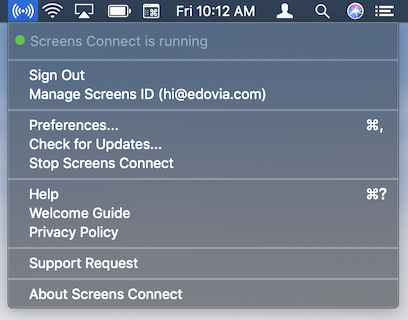 Click Stop Screens Connect.
This operation will make your Mac unreachable remotely. Make sure to launch Screens Connect in the future if you need to connect to your Mac remotely.
Note: Older versions may not include this feature. In this case, download our uninstallation tool.