Personal Use
When you purchase a Screens for macOS license from us at Edovia, you are entitled to use that license for personal use on up to five (5) Macs that you own and control. Any additional users will require one (1) additional license per user.
Commercial Use
Using Screens in a business environment requires one (1) license per computer, with a discounted site license available for larger organizations. Licenses are non-transferable. For more information, visit our Screens 4 Volume Discount page.
Bundles and Promotions
Unless stated otherwise, licenses acquired through a promotion (Stacksocial, Bundlehunt, etc.) have a maximum of three (3) activations. Other conditions stated in Personal Use apply.
License Management
If you wish to transfer a Screens license to another Mac, you can deactivate a license:
Launch Screens.
In the application menu in the system menu bar, click Screens.
Click Registration.
Click Deactivate.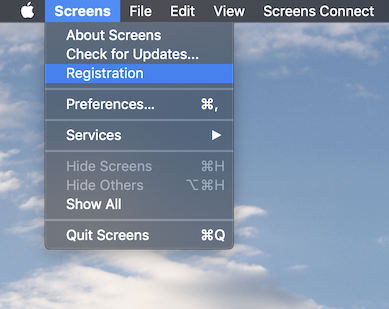 Lost your license?
You can get your license back at anytime by visiting https://edovia.com/licenses. Ensure that you have your order number or email address used during your purchase.
Purchases made on the Mac App Store
If you've purchased Screens on the Mac App Store, you can re-download Screens at any time by following these instructions from Apple.
Screens for iOS
Screens for Mac is a separate purchase and is not included in your Screens for iOS purchase on the App Store.